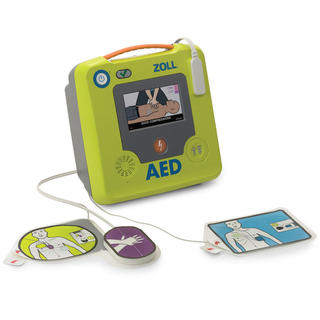 Zoll AED 3 Semi Automatic
Description
The Zoll AED 3 semi-automatic external defibrillator is easy to use, giving improved support for rescuers. It has been designed and built upon years of usability research from both trained and untrained first aiders. 
This defibrillator comes equipped with improved Real CPR Help, ZOLL's real-time CPR feedback technology.
The cost of ownership is kept down as it uses universally sized adult and paediatric electrode pads and comes with a battery that lasts 5 years. Easy to maintain, it includes Programme Management Onboard which connects to the cloud via WiFi to ZOLL's PlusTrac AED programme management system. 
Includes 1 year free subscription to Plus Trac, an interactive web-based AED program management system that makes it easy to keep your AEDs inspected, your consumables up to date, and all of your AEDs properly managed and ready for rescue. PlusTrac's early warnings and reminders mean that every person in your organisation who needs to have status updates on all or part of your AED program will know what they need to know, when they need to know it.
Key features:
 Real CPR help.  See chest compressions during CPR to let you know you're doing it right 
Shock delivery 8 seconds after stopping CPR for a more effective shock
 Constant metronome at a rate of at least 100 compressions per minute to comply with the latest best practice guidelines 
 Universal CPR Uni-padz for push-button selection of Child rescue using the Child button on the front of the AED 3 
 Scissors are attached to CPR Uni-padz for easy removal of clothing 
 Dual orientation (upright or flat) for the best visibility during a rescue 
On-screen CPR cycle countdown timer to let you know time remaining in this cycle
 High-resolution full-colour graphic images and text accompany all audio prompts for easy understanding of what to do next 
 Includes rescue accessory pack containing non-latex gloves, barrier mask, razor, paper towel and towelette 
 On-screen display of elapsed rescue time and number of shocks delivered for critical information that EMS personnel will need to know on arrival 
 No maintenance inspections needed.
Suitable for: Public areas, airports, cruise liners, shopping centres and retail outlets.
At a glance:
 Manual Override: No 
 ECG display: No 
 Voice prompts for AED and CPR: Yes 
 Battery: Lithium manganese dioxide  - 5 years 
 Energy selection – adult 120-200 child: 50-85 
 Self check: Yes 
 IP rating: IP55 
Drop abuse/tolerance: 1 meter 
Guarantee: 10 years
Contents:
Pads, battery pack, operator's guide manual, administrators manual
After purchase we recommend that you register your defibrillator with your local ambulance service. Registering your defibrillator on the 999 control system can help in the event if somebody is found unwell. The person dialling can be reminded or directed to a nearby defibrillator which may assist in saving someone's life.