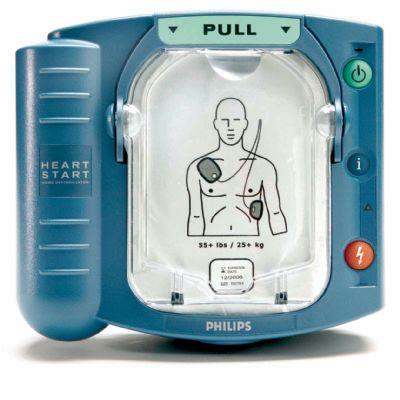 HS1
Description
Now anyone can save a life with the Heartstart® HS1 Semi-Automatic Defibrillator. Simple to operate, even an emergency first aider or a layperson with minimal training can use this defibrillator.


Affordable and suitable for various sites including office buildings, industrial sites, airports, aeroplanes, trains, train stations, ferries, hotels, fitness centres, sports arenas, general practitioners surgeries, dental practices and other health institutions 
Calming natural voice instructions coach the emergency first aider through the steps of first aid defibrillation and CPR 
Semi-automatic - administers a shock at the press of a button
 Comprehensive automatic self-tests check the HeartStart® HS1's vital functions on a daily, weekly and monthly schedule 
Pre-connected adult SMART pads 
Defibrillator - 8 year warranty 
Minimum of five years shelf life for battery, with standby life of four years
Philips code: M5066A
Contents: Defibrillator, one lithium battery, one adult SMART pads cartridge, quick reference guide, quick set-up guide and owner's manual.
Useful  information:

HeartStart® HS1 defibrillators can be used to treat infants and children (using infant/child SMART pads).
After purchase we recommend that you register your defibrillator with your local ambulance service. Registering your defibrillator on the 999 control system can help in the event if somebody is found unwell. The person dialling can be reminded or directed to a nearby defibrillator which may assist in saving someone's life.

The ambulance service may require you to contact them regularly to ensure that your defibrillator remains in place and ready for us.