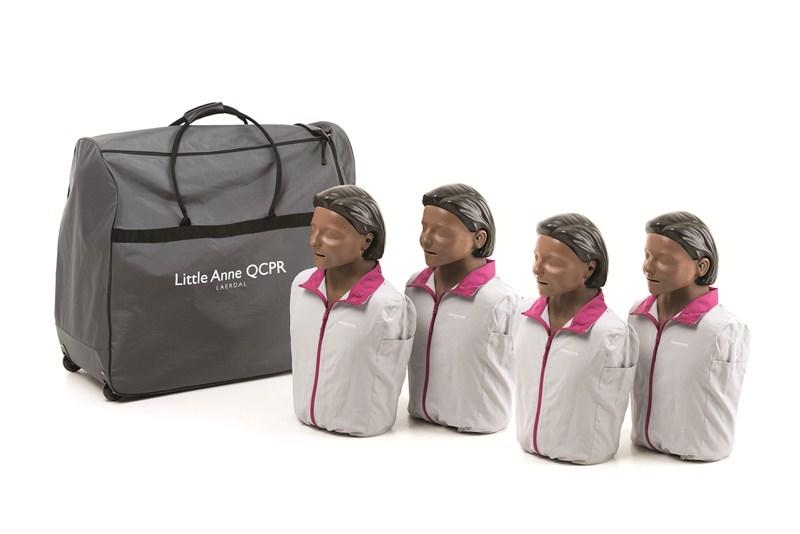 Laerdal Little Anne QCPR 4 Pack in Carry Case dark skin
Description
A pack of 4 Little Anne™ CPR training manikins, recently enhanced to provide even more realistic adult CPR training without compromising quality or usability - for every first aid student.
Realistic, inexpensive and lightweight CPR training manikins with QCPR technology
Oral and nasal passages allow realistic nose pinch required for mouth-to-nose and mouth-to-mouth ventilation
Natural obstruction of the airway allows students to learn the important technique of opening the airway
Head tilt/chin lift and jaw thrust allow students to correctly practice all manoeuvres necessary when resuscitating a real patient
Audible feedback for chest compressions reinforces correct compression depth with an optional 'clicker' feature
QCPR Technology
QCPR measurement and feedback technology enables:
Real-time feedback on compressions and ventilations
Post-training debrief, including overall scores and tips for improvement
Details on compression release, depth and rate, ventilation volume, and number of compressions, ventilations and cycles
Instructors and trainees to more effectively monitor and review CPR performance, increasing the efficiency and value of training time 
 Instructors can monitor up to six learners at the same time, allowing them to assess performance results of multiple individuals in real-time and provide a team debrief while also focusing on individual performances.
Feedback is available by downloading the free QCPR Learner and QCPR Instructor apps available from Apple App Store or Google Play Store.
 With the app, the instructor gets a performance overview of up to six manikins, at the same time. Using their own observations and the objective feedback from the app, the instructor can quickly and effectively coach the learners to improve
Contents:
4 x Little Anne™ QCPR Dark Skin Training Manikins
8 x Removable Manikin Faces
8 x Disposable Airways
24 x Manikin Wipes
4 x Kneel Mats
1 x 4-pack bag
4 x Jackets
1 x User Guide