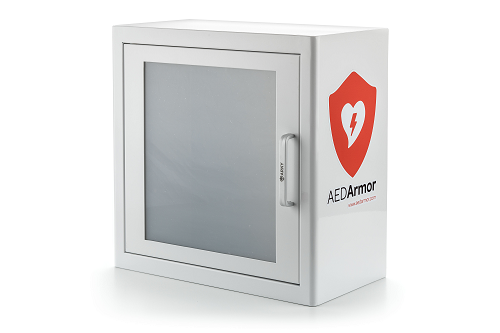 AED Armor White Metal Indoor Cabinet
Product Details
AED Armor's indoor cabinet is a simple, yet functional storage solution for your life-saving investment. Designed with AEDs in public places in mind, you can rest assured that by storing your defibrillator in this storage solution, it is safe, secure and easily retrievable.
The carefully designed indoor cabinet is capable of housing the majority of defibrillators available on the market and is best suited to storing AEDs in public places.
This cabinet is also available with an alarm feature for extra security.
Key Features
Transparent glass panel in the front door so you can see your AED inside
Strong metal cabinet creates a seamless look
Ideal for public locations, such as offices and shopping centres
Powder coated for a smart finish
Aluminium hand grip engraved with logo
How to use
Safe, visible and safe for wall mounting, this cabinet provides optimum protection for your life-saving device, ensuring it is completely protected against harsh, environmental elements.
The strong metal casing of the cabinet features a powder coated exterior and an engraved aluminium handle grip, making it easy to retrieve the AED in an emergency.
Ensuring the defibrillator is easily accessible and retrievable will remove any delays that may hinder the treatment being delivered to the patient, providing them with a higher chance of survival.
Specifications
Dimensions: W:380mm H:380mm D:200mm
Weight: 5kg
Materials used
Cabinet shell: Metal
Paint: Powder coating
Hinge: Aluminum
Window: Plastic
Operating / storage temperature From 5°C to 30°C