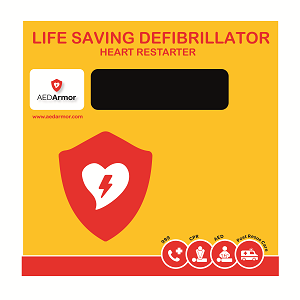 AED Armor Stainless Steel Cabinet No Lock with heating
Product Details
The Stainless Steel Cabinet No Lock with Heating will provide safety and security to your AED whilst ensuring it is easily retrievable in the event of a cardiac emergency.
All of the AED Armor range has been manufactured to the highest standard, ensuring you get the most out of your life-saving investment whilst also providing you with the knowledge that it is safe, secure and ready for use.
The bold design of the cabinet, along with the high visibility will assist any responder of any level in the deliverance of the life-saving treatment to the casualty.
It's bold design and high visibility will aid any level of first responder in delivering the life-saving treatment to the victim of sudden cardiac arrest.
Cabinet's External Dimension: 400mm (H) x 400mm (W) x 250mm (D)
Please note, there is currently a 5 – 6 week lead time for this product. 
The additional extra of personalisation is available as an optional extra on this product – please speak to one of our advisors to discuss your options. 
Key Features
IP66 rating
Plastic Wing Handle
Thermostatically designed heating system
External viewing window
Removable torch
Motion sensor LED to illuminate the cabinet when opened
What's Included?
Cabinet
Power Source
Removable torch
Fastenings
Specifications
Cabinet's External Dimensions: 400mm (H) x 400mm (W) x 250mm (D)
Thickness of the metal: 1.5mm Thick
Type of metal: 304 Stainless Steel
Thickness and type of powder coating: 100 Microns electrostatic polyester powder
UV Protection: Some
Handle Materials: Stainless Steel
Fasteners Material: Sheridised mild steel