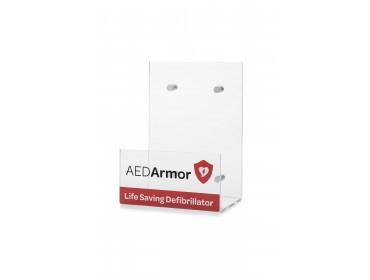 AED Armor Perspex Wall Bracket - Large
Product Details
The Perspex Wall Bracket has been designed with simplicity and ease at the forfront of the mind and provides you with a safe, practical and space-efficient way of storing your AED.
The Perspex range has been designed to embody attractiveness, innovation and adaptability to almost every environment. The particular bracket allows you to store any AED on the market, including the larger ZOLL AEDs and Powerheart G5 devices.
Key Features
Sturdy Perspex frame
Simple storage
Easy access in the event of an emergency
Simple installation
For indoor use only
How to use
This Perspex Wall Bracket is sure to provide your work environment a simple, yet eye catching way of storing your life-saving investment. Simply choose which wall you would like to fix the bracket to and and use the matte fixings provided to install and you're all set.
A Wall Bracket allows for a quick retrieval of the AED in the event of an emergency. For every minute that treatment is delayed, the casualty loses 10% of their survival chance, therefore swift treatment is imperative.
Specifications
Dimensions H: 22cm x W: 23cm x D: 15cm
Thickness of the metal: 2mm Thick
Type of metal: Commerical Grade Aluminium
Thickness and type of powder coating: Powder Coat White Gloss