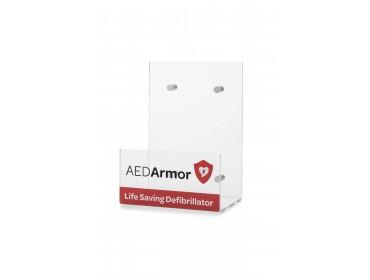 AED Armor Perspex Wall Bracket
Product Details
Dimensions H26cm x D13cm x W19.5cm
This sleek bracket offers a simple storage solution for your life-saving device and is ideal for indoor office environments. Each Perspex storage solution comes complete with 4 matte fixings, making it incredibly easy to fix to a wall in a location of your choice. This simple and effective method of storing your device allows bystanders to quickly locate and retrieve the AED, saving valuable time in the case of an emergency.
Key Features
Sturdy Perspex frame
Uncomplicated storage for easy access
Simple installation
For indoor use only
How to use
For every minute that passes for a victim of SCA, their chances of survival decreases by 10%, but by ensuring you keep your defibrillator in a place that bystanders can easily recognise it, you can help to limit the time between collapse and defibrillation.
The AED Armor Perspex Wall Bracket allows rescuers to simply lift the defibrillator out of the unit without having to open anything or enter a code, allowing definitive treatment to be delivered right away. This particular option is suitable for indoor environments, making it perfect for offices, receptions, corridors or staff rooms.
Specifications
Dimensions H:26cm x D:13cm x W:19.5cm
5mm thick clear perspex