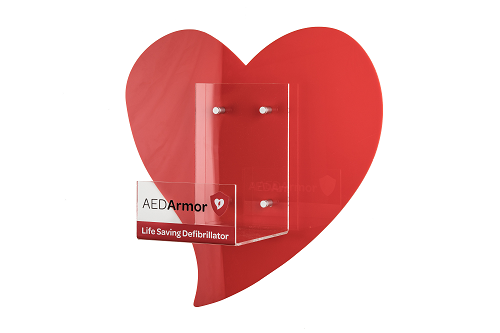 AED Armor Perspex Heart Wall Bracket - Large
Product Details
While AED Armor provides a variety of storage solutions, there's none quite as unique or bold than the Perspex Heart Wall Bracket.
Designed to be eye-catching and vibrant, this wall bracket and heart combination provides a simple, yet effective way to store your life-saving investment, ensuring everyone who frequents the location is aware of the device's location.
Dimensions of Heart: H56cm x W55cm
Dimensions of Wall Bracket: Dimensions H10cm x D20cm x W29cm
Key Features
Sturdy Perspex wall bracket
Uncomplicated storage for easy access
Bright "heart" back feature
Simple installation
Designed to be used indoors only
Specifications
Heart Brackets: 3mm thick red perspex
Bracket: 5mm thick perspex clear perspex
Dimensions of Heart: H56cm x W55cm
Dimensions of Wall Bracket: H10cm x D20cm x W29cm
How to use
This particular design is the larger option allowing you to store larger AED devices, such as the Powerheart G5 AED range.
All Perspex storage options include 4 matte fixings to allow for a sleek, simple design and way to install your storage solution.
The bright heart feature of this product will ensure everyone in the area, whether they frequently visit or not are aware of the location of the life-saving AED. Wall brackets are one of the simplest storage solutions for AEDs as rescuers are able to retrieve the unit quickly without worrying about opening cabinets and inputting codes.