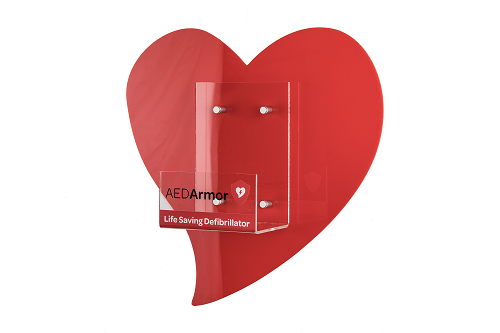 AED Armor Perspex Heart Wall Bracket - Small
Product Details
If you're looking for a storage solution to house your defibrillator that offers protection as well as vibrancy, the AED Armor Perspex Heart Wall Bracket is exactly what you need. The bold red heart is hard to ignore, making your defibrillator stand out wherever you choose to store your life-saving device. Ensuring knows where to retrieve the defibrillator in the event of a cardiac emergency.
Dimensions of Heart: H56cm x W55cm
Dimensions of Wall Bracket: H10cm x D13cm x W23cm
Key Features
Sturdy Perspex wall bracket
Simple yet effective storage for easy access
Bright "heart" feature
Simple installation
For indoor use only
How to use
The AED Armor Perspex Heart Wall Bracket includes 4 matte fixings for you to use to install the bracket.
In the event of an emergency, quick retrieval of a life-saving defibrillator is vital to help increase the chances of survival. The victims' chances of survival can increase from 6% to 74% when CPR and defibrillation is delivered within 3-5 minutes of collapse.
This bold Heart Wall Bracket acts as a secure storage solution for your life-saving device and its simple design ensures the AED can be easily located and retrieved in the case of an emergency.
Specifications
Heart Brackets: 3mm thick red perspex
Bracket: 5mm thick perspex clear perspex
Dimensions of Heart: H56cm x W55cm
Dimensions of Wall Bracket: H10cm x D13cm x W23cm