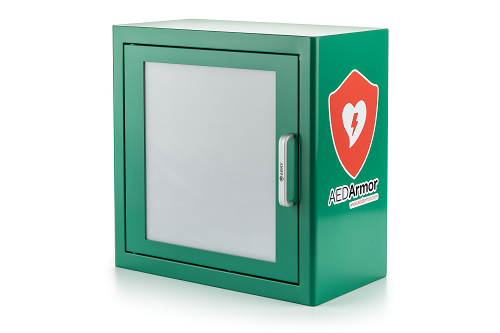 AED Armor Green Metal Indoor Cabinet with Alarm
Product Details
After investing time and money in searching for and purchasing a life-saving defibrillator. You are going to want to ensure it is stored safely. If you are looking for a robust AED cabinet that guarantees protection and highlights the contents of the cabinet, the AED Armor Green Metal Indoor Cabinet with Alarm could be exactly what you're looking for.
Equipped with an alarm that sounds as soon as the cabinet is opened, this defibrillator cabinet is specifically designed to alert bystanders that there is an emergency. This will prompt them to help you with the rescue process after someone has suffered a cardiac arrest.
Key Features
Sounding alarm activates once the cabinet door has been opened
Sturdy metal cabinet provides a sleek look
Ideal for housing most defibrillator manufacturers and models
Aluminium hand grip engraved with logo
Clear glass front ensures bystanders are aware that the cabinet contains a lifesaving AED
How to use
A suitable defibrillator cabinet should be sturdy, offering protection for when you're not around. The AED Armor Green Metal Indoor Cabinet with Alarm provides you with this, and the added peace of mind with an alarm.
The sleek green casing is hard to miss, ensures the safety of your defibrillator whilst the easy to open handle gives first responders instant access in an emergency situation.
Size
Dimensions: W:380mm H:380mm D:200mm
Weight: 5kg
Electronic features
Alarm: Acoustic
Power supply: 3x Button Cell Batteries LR44
Output:105 dB
Materials used
Cabinet shell: Metal
Paint: Powder coating
Hinge: Aluminum
Window: Plastic
Operating / storage temperature From 5°C to 30°C