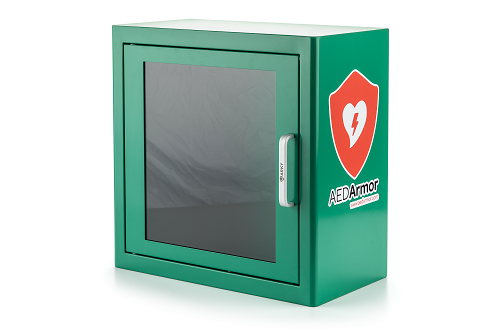 AED Armor Green Metal Indoor Cabinet
Product Details
The A4 AED Wall Sign is one of the simplest, yet most cost-effective ways to highlight the location of your life-saving defibrillator to bystanders in the area.
With the universal AED symbol boldly highlighted on the sign, along with the text, you can rest assured that your life-saving device is clearly highlighted and bystanders of the area will be alerted to the defibrillator's presence.
Why is it Needed?
After someone falls victim to sudden cardiac arrest, timing is crucial. For every minute that defibrillation is delayed, the casualty's chance of survival decreases 10%. This is why it is vital that bystanders are able to quickly identify and locate the defibrillator, to allow for swift treatment delivery.
The A4 Wall Sign has been created to stand out in almost any busy environment, ensuring as many people as possible know where the defibrillator is located in an emergency situation to allow for quick retrieval and treatment.
About AED Armor
AED Armor has created a variety of accessories to compliment and help you get the most out of your life-saving investment.
Whether you're looking for a cabinet to store your AED or a wall sign to highlight it's location, our range provides you with the equipment to ensure your defibrillator is both visible and safe.
Specifications
Size
Dimensions: W:380mm H:380mm D:200mm
Weight: 5kg
Materials used
Cabinet shell: Metal
Paint: Powder coating
Hinge: Aluminum
Window: Plastic
Operating / storage temperature From 5°C to 30°C