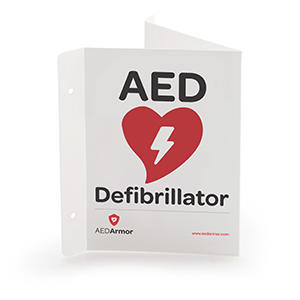 AED Armor 3D Wall Sign
Product Details
After purchasing your life-saving investment, it is important that you highlight its destination to allow for quick retrieval in the event of an emergency. Our 3D Wall Sign means that the location of your AED can be seen from multiple angles and clearly indicates to bystanders where the defibrillator is located in both emergency and non-emergency circumstances.
Our 3D Wall Sign is one of the easiest and most effective ways of highlighting your defibrillator. Regardless of location, you can rest assured your life-saving device is easily locatable if a cardiac emergency were to arise.
Dimensions: H 20cm W 16cm Depth 13cm (from the wall out).
Why Should I Highlight my AED?
After someone has fallen victim to sudden cardiac arrest, every second counts. Ensuring your defibrillator is visible to bystanders in your location will allow for a quick retrieval of the device, eliminating any potential delays between the victim collapsing and treatment being delivered.
The 3D Wall Sign is the perfect signage option for an environment where an AED may not always be recognised or noticed. Being a 3D design, it is guaranteed to stand out and alert bystanders to a defibrillator being available.
About AED Armor
AED Armor is the latest AED accessories brand to hit the market. With a wide range of accessories, designed to help you make the most out of your defibrillator, you can rest assured that with AED Armor, your investment will not only be safe, but visible too.
What's Included?